Think about it for a moment…is your credit union sharing the right stories? Whether you know it or not, the stories used in marketing materials, press releases, and direct one-on-one communication with your members can be more influential than any product or service, and it's time we start telling them right.
Why stories are important
Stories help others get to know and understand us: Our purpose, character, experience, and our beliefs. Our stories also help others to know what they can expect from us. And, most importantly, good stories inspire hope and action.
Marketers and salespeople as storytellers are initially focused on establishing a connection between the member and the message – selling comes second. They share stories in which products or services are only a part. Maybe the person in the story uses the product or service and is changed for the better, or the product is used to move the story along. Either way, the story itself is primary. A commitment to keeping people at the forefront results in an emotional connection with readers, allowing them to see the portrayed need as their own.
What makes a good story?
I've included the components of a good story below, alongside some personal "for instances" that further illustrate these ideas:
The story touches people in some way, encouraging thought and interaction. A credit union story about a hard-working, blue-collar member might touch people who have recollections of their own working-class experiences, or of growing up in a blue-collar family.
The story has a purpose that is aligned with the credit union's character. A credit union story that communicates specific community impact (results from the credit union's service in the community) would support a community-chartered credit union's character.
The story communicates conflict and action that signifies growth, improvement, and better quality of life. A credit union story that identifies a conflict in a consumer's life (i.e. living paycheck-to-paycheck) and relates how credit union staff were able to help with a budget and refinance to lower monthly payments (increasing disposable income) creates a natural call to action.
The story generates strong images that listeners can relate their experience to and encourage interaction. A credit union story that clearly articulates the stress and frustration of being stuck in very slow traffic on a Friday when headed to the credit union to make a deposit before the weekend are images many consumers can quickly relate to.
The story is sincere and allows listeners to open their hearts to people. Credit union stories that include instances when employees are able to give personal testimonials create vulnerability and trust. An example of this might include an MSR relating how the credit union worked with a member to build new credit and prepare to finance his first car. Alternatively, it might include guidance on how a coworker helped them with a budget that reduced overdraft fees.
The story is relevant to the audience. Stories should reflect a credit union's membership or potential membership. If I serve an upper-middle-class market, my stories might be mostly based on time-savings and convenience. If I was serving a middle- or lower-middle-class membership, I might want to structure stories around money-saving and payment-reduction strategies.
Credit union best practice
Here is a story about how one credit union – my friends at Hawaii First Federal Credit Union – made a significant impact on the lives of one family:
"I had the privilege of attending the Native Nations Education Foundations Pane'e Mua Project graduation. Two of our members, Phillip Naki and Mala Wong, graduated with their GEDs.
This Native Hawaiian family of 15 purchased one of our foreclosure properties through financing from Hawaii First, and since moving to the Big Island has been one of our member fixtures here in Hilo (branch). Often coming in to have long talks with me, they have truly touched my heart.
After looking further into their finances, we saw they were caught up in the payday loan cycle. With all family members maxed out on predatory loans and living on fixed incomes, Hawaii First was there to assist. We met regularly with the head of household, the father, to ensure change would start from above. We refinanced their debt, paid off all payday loans, and provided financing for a family vehicle. We encouraged the father to talk to his family about their current situation and work together to make some necessary changes. Financial counseling sessions extended to other household members, where we encouraged personal and financial growth. After continuous hardship, the father –  who is almost 60 – decided to go back to school after more than 20 years of just living on disability. Soon two of his children, both with disabilities, followed and completed their GEDs and are now moving on to college. This family is so supportive of Hawaii First that one of their other daughters recently became a volunteer Supervisory Committee member!
This story began with a financial counseling session and turned into a two-year journey that continues to grow. We will continue to support them every step of the way, and are very proud of what they have accomplished!"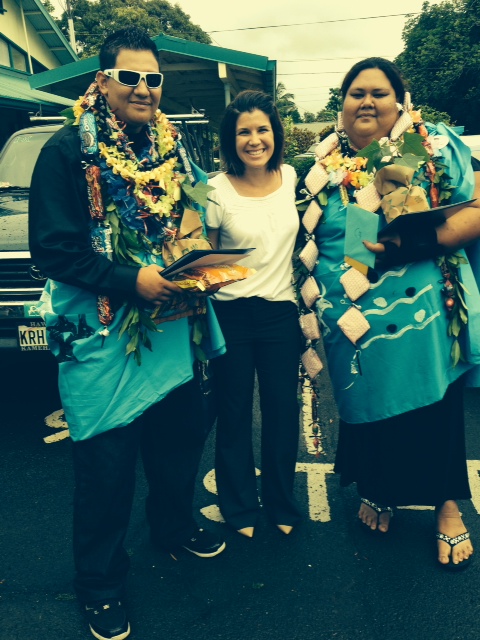 Featured in the photo from left to right: Phillip Wong (graduate), Cherie Berg (VP of Risk and Development), and Mala Wong (graduate).
 Take the time to gather your stories
If your credit union's story is usually rate-related, consumer perception may be that you're only as good as your rates. Don't get me wrong, great rates are important. However, stories that inspire hope and action will always be about people.
Consistently sharing the right stories will make a difference, resulting in greater member-impact, growth and profitability. We all tell stories – some are just better than others. If you haven't recently, I encourage you to spend a little time listening to the stories coming from your credit union.