Look around and you're likely to hear the good news that robust loan growth has returned to the credit-union space. Truly, it is great news for all of us. However, it's important to point out that most of the loan growth is coming from the large fish in the pond. The reality is that loan growth is still a big challenge for the majority of our numbers that are considered "small fish" (less than $50 million in assets).
According to the CUNA Year-End 2013 U.S. CU Profile, loan growth for credit unions of less than $50 million was tepid at 2.2 percent. This is a very important fact if you are a smaller credit union. CUNA also reported that as of year-end 2013, there were 4,468 credit unions who were considered small, with less than $50 million in assets. That is 66 percent of all credit unions. In this view, the growth picture looks a little different.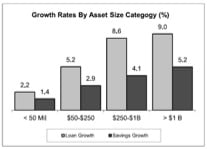 What is a small fish to do?
Smaller fish need to find their unique place in the pond to survive. To do this, they have to identify and pursue loan opportunities where they can realistically compete and win. The greatest opportunities and results I see are in subprime used-auto loans.
It's simple: fewer financial institutions complete for subprime used-auto loans. In fact, in many markets the only competition in this market is the "Buy Here, Pay Here" (BHPH) used-auto lots who charge an average 30 percent rate. Credit unions competing in this market typically charge 15 percent, which is half of what the competition is charging and still high enough to cover higher overhead and loan losses.
Lots of opportunities for small fish in the subprime used-auto space
Vehicles sold through BHPH lots have increased dramatically, with 2.4 million vehicles sold during 2013. This is nearly a quarter of all used-car sales. There are an estimated 33,000 BHPH lots in the United States, and they are found in all markets. These loans represent growth and revenue opportunities for thousands of credit unions that are struggling to find their niche in the food chain.
From my perspective, serving this market is about more than growth and profitability. It's also about credit union purpose, and making a difference in the lives of our members and the communities we serve. Credit unions serving this group make a difference. BHPH customers usually pay predatory rates and buy significantly overpriced vehicles. Consequently, these predatory terms take forever to pay off and, in many cases, are never even reported to a credit bureau. If a quarter of all used-auto loans are through BHPH lots, just imagine how many of our members this has impacted.
Credit unions have an opportunity to achieve Purpose and Profit in this market. There is high demand for profitable subprime used-auto loans, and these loans represent a big opportunity to help members, increase member loyalty, and attract new members. Do you want to make a relevant difference in a member's life? Save a member $3,356 in interest when you refinance their 48-month used-auto loan from 30- to 15-percent interest! Yet, the potential member benefit runs deeper than just the interest savings. Helping more members get an affordable and reliable used car helps them retain employment, and it gives consumers better access to more job opportunities and the flexibility to work extra shifts and overtime. Vehicles for Change reports that 75 percent of the 4,000 families the charity helped to obtain a reliable used vehicle got better jobs or increased household earnings.
If you are feeling a little risk-adverse, remember that regardless of the loan product credit unions pursue – credit cards, indirect auto, mortgage, business – specialized risk mitigation is always needed. The same is true for subprime used-auto loans. Do your due diligence. There are scores of smaller credit union best practices out there for you to learn from. Want a few names? Give me a call and I will introduce you to credit unions who are experts in this market. They are willing to share successful practices and amazing consumer impacts.
Being a small fish in a large pond can make us feel insignificant, unimportant and irrelevant. To overcome this and survive, smaller credit unions need to adapt. Failure to consistently grow profitable loans is why so many credit unions are going away.
If you want to survive and thrive, compete where you can win.